Carey Danis & Lowe Reports on Syngenta GMO Corn Transfer Order
Published December 23, 2014 on PR Web
St. Louis, Missouri (PRWEB) December 23, 2014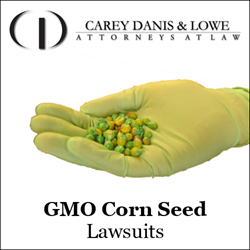 GMO corn cases filed across the United States, and targeting Swiss biotechnology company, Syngenta, are in the process of being consolidated in a Kansas federal court for pretrial proceedings. The consolidated case is In Re: Syngenta AG MIR 162 Corn Litigation, MDL No. 2591 in the U.S. District Court for the District of Kansas.
Management of the Syngenta GMO corn multidistrict litigation (MDL) has been handed over to U.S. District Judge John W. Lungstrum.*
As a Missouri law firm specializing in class action lawsuits, and currently representing U.S. corn farmers who claim to have suffered financially from Syngenta's genetically-modified corn seed, Agrisure Viptera, or MIR 162, the team at Carey Danis & Lowe remains abreast of news that impacts U.S. corn farmers.
Carey Danis & Lowe believes that the Judicial Panel on Multidistrict Litigation (JPML) made a sound decision in ordering Syngenta GMO corn lawsuits to be centralized in one court. In the JPML's transfer order, a reason given for ordering the centralization is to avoid redundant research and evidence gathering, the possibility of varying pretrial rulings, and overuse of defendant and plaintiff resources.
In all, the centralization of the Syngenta lawsuits will lead to an organized and efficient legal process, which is best for all parties involved, say Carey Danis & Lowe class action attorneys.
Legal Assistance for U.S. Corn Farmers & Exporters
As the St. Louis law firm currently represents U.S. corn farmers in cases involving claims against Syngenta, Carey Danis & Lowe is available to review legal options and compensation eligibility with U.S. corn farmers and exporters who claim lost revenue from Syngenta's commercialization of the genetically-modified corn seed, Agrisure Viptera.
Carey Danis & Lowe can be reached by phone at 800.721.2519.
——————————————
About Carey Danis & Lowe
Carey Danis & Lowe is a plaintiff's litigation firm based in St. Louis, Missouri. Carey Danis & Lowe specializes in defective drug and pharmaceutical litigation and class action lawsuits. The Carey Danis & Lowe team is comprised of experienced attorneys working alongside knowledgeable and professional staff that includes medical doctors, nurses, and information technology specialists. Contact Carey Danis & Lowe at 800.721.2519 for more information about our legal services.
Source
United States Judicial Panel on Multidistrict Litigation, "In Re: Syngenta AG MIR 162 Corn Litigation, Transfer Order", December 11, 2014: http://bit.ly/jpml-syngenta-transfer-order
References:
Class Action
,
Consumer protection
,
GMO
Tags:
Agrisure Viptera
,
class action
,
Corn Farmers Exporters
,
Corn Litigation
,
District Court
,
GMO
,
JPML
,
Judicial Panel
,
Legal Assistance
,
MDL
,
MIR
,
Press Release
,
St. Louis
,
United States